Our First Venture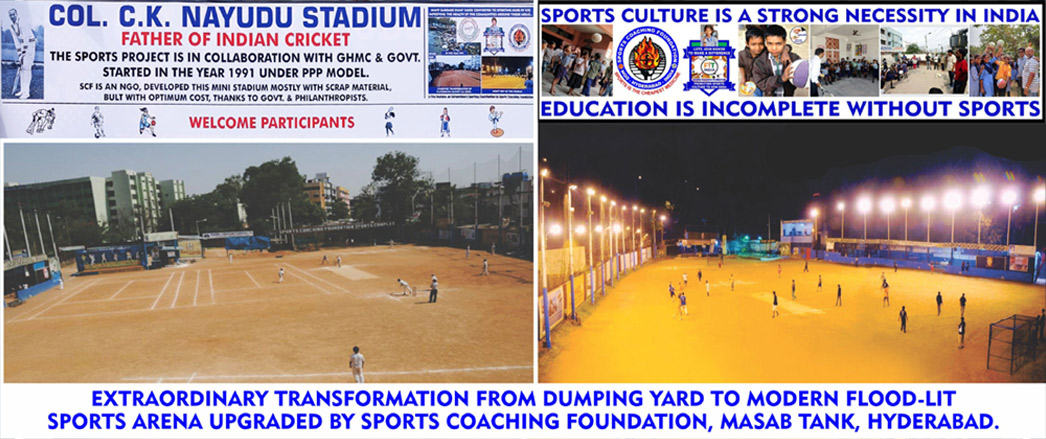 (Sports Coaching Foundation first venture GHMC & Govt. a PPP Model Project.)
SCF First Sports Venture in collaboration with GHMC & Govt. in the year 1991.
It was the colossal effort put into transforming the most sensitive 1-acre 30 cents Govt. Land (at Masab Tank), which was essentially a dumping yard surrounded by drug edicts and illiteracy and ignorance as not given them the platform to learn positive attitude thanks to Police Department for the excellent coordination.
Now the developed miniature stadium (mostly made with scrape material with optimum cost) now it is most sorting sporting hub attracting all the strata of the society and SCF an NGO coordinating with all the Govt. Schools / Colleges to get Free Coaching to all marginalized communities to give the wonderful sporting facilities available.
HERE ARE INTERESTING ASPECTS THAT YOU SHOULD KNOW ABOUT THE HISTORY OF SPORTS COACHING FOUNDATION (SCF), HYDERABAD.
Sports Coaching Foundation since 30 years of its journey as done extraordinary work to poorest and excluded children and youth a whistle blower by creating basic sports facility where the sporting platform given to most of the Govt. Schools children and taking very effective motivating sports workshops multi sports activities and connected with more than 300 Govt. School donated hundreds of Basketball, Volleyball, Shuttle Badminton, Football & Kho-Kho Poles, with the wonderful SCF Coaching Manual teaching the children beyond sports with Gandhian Values, our voluntary work totally transparent and accountable and every thing is documented please click here: Monthly newsletter