NEED FOR PARTNERS FUNDING SCOPE
Need a partners to adopt and transform the Govt. Schools through sports.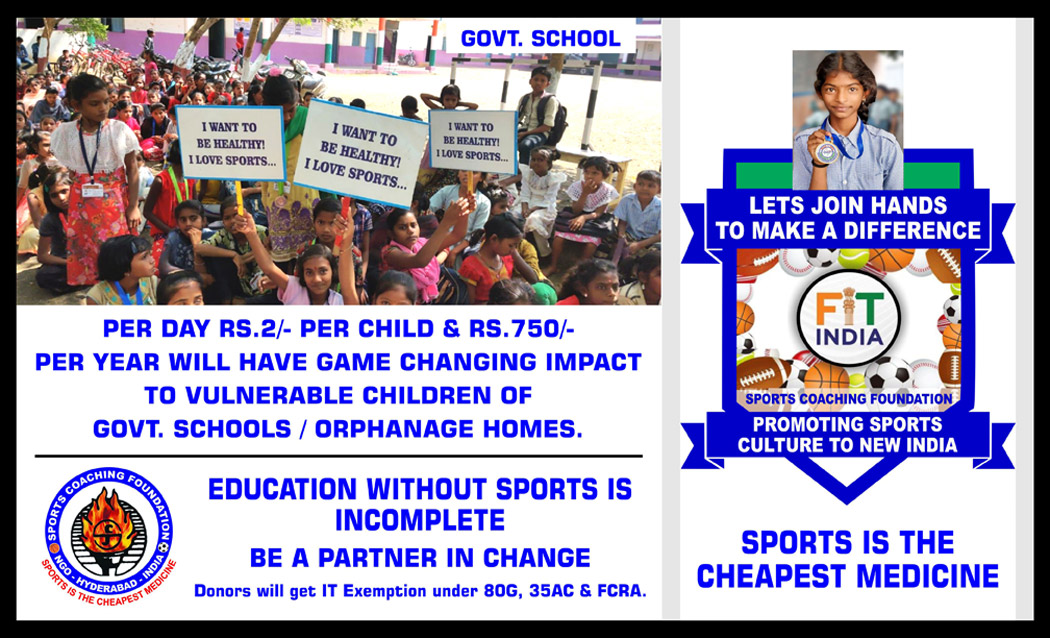 'BITS (BUILD INDIA THROUGH SPORTS) PROJECT' IS THE CENTRAL PROPONENT OF SCF.
BITS PROJECT = Sports Promotion Activities at SCF Sports Complex at Hyderabad + Mobile BITS (MBITS) Project activities at underprivileged areas all over India…
A donation to 'Sports Coaching Foundation (SCF)' is the best way to assist underprivileged children and youth through its BITS Project. Donations will be utilized as follows:
At its Sports Complex, Hyderabad - Monetary contributions will empower SCF to :
Purchase Most urgently needed Sports equipment (for the underprivileged)
Conduct Free Tournaments & Events all round the year (for the underprivileged (Every year - 30 Tournaments & Events)
Build Sports infrastructure at SCF Sports Complex (Masab Tank, Hyderabad) for SCF Trainees.
We will humbly accept your donation in the form of MONEY, GOODS & TIME...
DIRECT FUNDING TO LESS-PRIVILEGED TALENTED TRAINEES IS WELCOME!
Most importantly, your donations will sponsor SCF activities (mobile coaching) under the 'Mobile Build India Through Sports (or MBITS) Project' through which SCF voluntarily visits Low-income Institutions (Government Schools, Municipal Schools, Orphanage Homes, Street Children Homes, etc) to promote Sports by:
Conducting Mobile Sports Clinic to empower Children with Life Skills
Developing Sports Infrastructure (where required) to facilitate Sports
Donating Sports Equipment for continuity in Sports all round the year
NOTE: SCF is one of the few Sports Organizations in India, which has IT Exemption under 80G and FCRA approved by the Govt. of India.
SCF urges you to help the organization in achieving its goal of building a 'HEALTHIER' India through Sports, especially keeping the dream alive for the underprivileged children to be empowered with life skills through the medium of Sports.